Turbo-charged art
Entertainer: Week of Aug. 12-19, 2011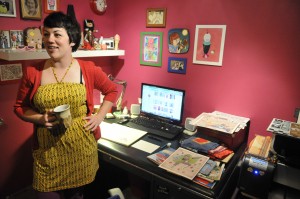 August 12, 2011 6:00 am
•
CORVALLIS — The recent illustrations of Betty Turbo (a.k.a. Corvallis artist Agnes Barton-Sabo) star pro-wrestlers such as Ricky Steamboat and Macho Man Randy Savage. They also feature cupcakes, tarts and popsicles.
That strange combination came about after a friend commissioned a piece for her husband featuring pro-wrestler Ric Flair and a giant squid – a few of his favorite things.
Viewed through the the lens of Betty Turbo's dessert-colored glasses the illustration unfolded with WCW world heavyweight champion Ric Flair taking on a horrific sea creature to win, not a prize belt, but the last piece of delicious cake.
Intrigued, Barton-Sabo took that strange juxtaposition and adapted it into a series of her own, combining wrestling with sweets and typography from cookbooks.
Next came an illustration of Jake the Snake Roberts (replacing the snake with cupcakes) and went from there.
"I'm very familiar with the wrestling section of the Corvallis library," she laughed on a recent afternoon in her home studio in northwest Corvallis.
Barton-Sabo wasn't a wrestling fan herself when she started the project, but said that she did her time as a theater nerd growing up and found the theatrics of it interesting. After all, she goes by a pseudonom herself.
When asked who buys the work, she said: "Thanks to the Internet, there are a lot more people that share an interest in wrestling AND baking."
Barton-Sabo started her Esty site in 2007 (bettyturbo.etsy.com). She sells prints ranging from $2 to $24. Her work can also be found online on Facebook and Flickr.
She also sells her paper goods at a variety of shops around the country, including Tender Loving Empire and ZimZim in Portland; Scout Dry Goods in Omaha, Neb.; Young Blood Gallery & Boutique in Atlanta, Ga.; and Pinecone + Chickadee in Portland, Maine.
Barton-Sabo, 30, has only been in Corvallis for about nine months. "I needed someplace new and my mom lives here," she said by way of explanation. "This climate suits me much better."
She spends her days working on random freelance projects, for instance creating hand-lettered typography for wedding invitations, posters for Portland events, or designs for T-shirts. (She and her boyfriend, an expert screenprinter, collaborate for another online shop at mixedspecies.etsy.com).
"I don't fuss too much over the originals," she said. "I'm cheap about hoarding my drawing paper and I usually draw on both sides."
Barton-Sabo studied art at the Rochester Institute of Technology, near Kodak camera's headquarters. She graduated in 2004.
She did study photography at RIT, but uses it more as a tool – an intermediate part of her process rather than the focus.
More often, she combines pencil, pen and ink and illustrations or typefaces that she has drawn or collected to create digital mixed-media collages.
She's also a professional cake decorator and collects vintage cookbooks. In fact, she collects a lot of things, calling herself a "paper nerd" and a "book nerd" who obsessively hoards paper ephemera. And, you can't help but notice the exotic action figures that crowd the mantel in her living room either.
"Baking is definitely a hobby I have," she said.
When it comes to baking, she stays away from the world of rice crispy treats and fondant reinforced sculptural cakes. "I like to make weird cakes, but I still want them to taste good," she said.
Before moving to Corvallis, she spent several years in Nashville working at the oldest letterpress shop in the United States — Hatch Show Print.
The shop has a library of woodblock prints and typefaces going back 125 years. It's a veritable working museum that lives by the motto: "Preservation through production," seeing more than 50,000 people in the shop a year and churning out 600 jobs annually ranging from posters for influencial musical groups to custom wedding and baby announcements.
Barton-Sabo called it "letterpress heaven" and spent her time as one of the shop's artists reveling in "creating things totally by hand, in the most complicated way possible."
Barton-Sabo appears in the video "American Letterpress: The Art of Hatch Show Print," which is part of a traveling exhibition by the Smithsonian Institution that started in 2008 and will conclude in 2012. (See the video).
Barton-Sabo is originally from Anchorage, Alaska, and both of her parents are artists. Her father is a retired art professor who draws, paints and works with ceramics mostly. Her mother is an amazing seamstress, a painter and a printmaker among her many artistic pursuits
Since moving to town, Barton-Sabo has shown her work at Cloud 9 in Corvallis and at various events in Portland. In the past, she showed work in Nashville, Tenn., including the Art & Invention Gallery and SQFT Gallery.
This fall, Barton-Sabo will be one of the guest artists at "PixelCraft @ the MAC," a new Fall Festival event that will showcase digital art from 10 a.m. to 4 p.m. Saturday, Sept. 24, at the Madison Avenue Collective, 459 S.W. Madison Ave.
During the event, artists will demo digital painting, advanced Photoshop techniques, stop action animation, how to market artwork via etsy and social media sites.